This was going to just be a post to highlight one piece of work from my recent collection. It's one I particularly like, I think it's one of my favorite things that I've done in recent years actually. It's called Some Old Story About A Boy Who's Just Like Me, and you can see it in the images below. But while thinking about what I could share about it, what details I could give about making it, I went down a bit of a rabbit hole thinking about my work in general and how it is often made up of various visual elements, with whatever meaning I glean from it coming from how those elements interact with each other. "But," you say with eyebrow raised, "that's like, all art though, right?" Well, sure, maybe. But just bear with me, I guess.
I am a mixed media artist. This has been the case as far back as I can recall, or at least as far back as I think it would be accurate to say I had an artistic medium at all. I'm doing a little mental inventory as I sit here and I am having trouble recalling a single time, in the last twenty years, when I have made a painting just by using paint, except when I had to for an assignment. I suppose since I started making relief prints I have done a few that were straightforward ink on paper, but those were very much exceptions. My preferred media is, and has always been, very much mixed. 
This involves elements of collage. (And assemblage, which is like collage but with 3D stuff.) I don't tend to focus on the collage part when I describe my work, because I do not consider myself a collage artist. The technique of collage is a small part of what goes into what I make. The ideas behind collage, however, have a lot in common with my own ideas of creating, and what a finished piece ends up being all about. 
Collage as a medium gets kind of a bad rap a lot of the time. I think there's a perception that it is a quick and lazy way to create something. Well, it can be, but drawing can be too. Maybe because collage is often a jumping-off point. Everyone expects young artists to start out drawing and painting in a naturally immature way, and then gradually get better at those things as they grow and practice. Whereas a lot of the time the teenager with scissors, a glue stick, and an old Rolling Stone is as far as the collage journey goes. It's not as often taken further, explored, and elevated. So we're just left with the work of young humans looking for their own voice, which at the age of fourteen probably manifested as a lot of angsty headline words sloppily pasted up amongst celebrities with their eyes blacked out. 
But there's collage as a technique (sticking 2D items on and around other 2D items) and then there's collage as an idea. A really interesting thing about collage as an idea, is that it's not centered in the concept of creating a new visualization. (Warning: overgeneralizations abound, obviously.) Drawing and painting, in their most basic forms, are about rendering. Whatever else they are doing is wrapped up in the creation of images, what things look like. Collage is about association. In the world of a collage, what things look like has mostly already been established, it's taken for granted as part of the existing world. The artist is putting something that already is in the world next to something else that already is in the world, and then stepping back to see what they say to each other. The takeaway from experiencing it is in how things relate to each other, and the stories the viewer creates simply by what ideas occupy the same space as other ideas, and in what ways.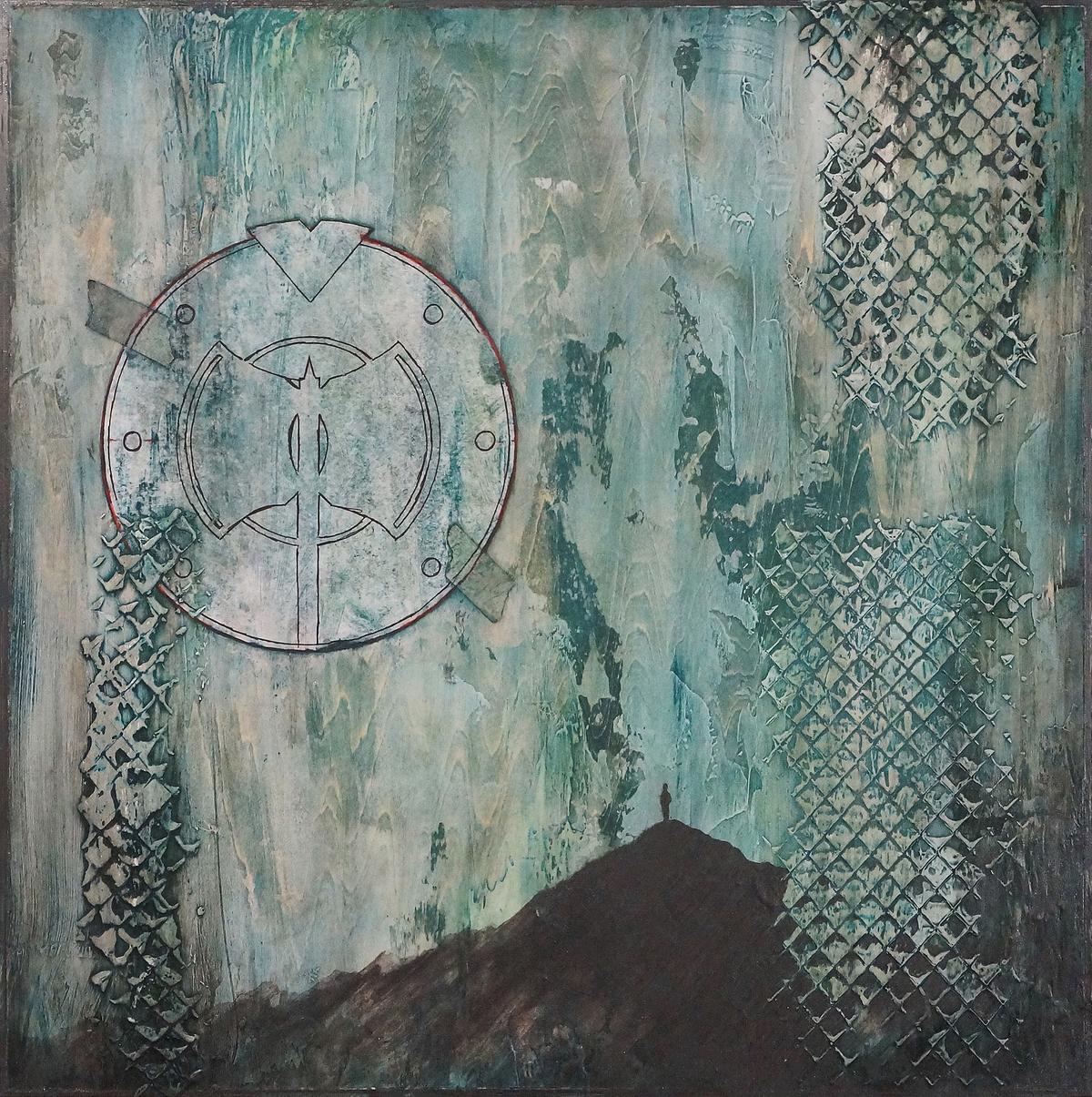 Some Old Story About A Boy Who's Just Like Me is not a collage, really. There's a bit of that to it, because the shield-like sigil is a piece of paper, with ink and masking tape. The rest of the piece is paint, plaster, and pencil. Compared to a lot of the pieces I make, it's actually fairly light in materials. But when I started thinking of how to unpack it a bit, explore the process of making it, I kept thinking about the associations of a collage. As you may know if you've been along this journey with me and read any previous posts, grappling with the idea of "meaning" in artwork is something I have a complicated relationship with. But once I am looking at it in the context of a collage, allowing the elements in it to be separate things that are occupying the same space, the resonances become clearer. Each element, with all of the associations it might bring to it, interacting with the other elements, and eventually informing what the whole thing is all about. I would not say I use collage as a technique, usually. But maybe each finished mixed media painting is sort of a collage, as an idea. "Yeah," you say with eyebrow back down where it should be, "that's kind of obvious. You've been doing this for years." Well, aren't you just ahead of the game. Some of us take a bit longer to really sort things out.
Back to the piece at hand. Some Old Story About A Boy Who's Just Like Me is visually simpler, in a lot of ways, than many pieces I make. It has five main elements. There's a figure on a hill. There's a round emblem with a greataxe design. There's areas of textured plaster. There's a border. And there's a title, which I am counting as an important element. Here are a few brief notes about those elements and how they relate to each other.
The figure is a young man. The textured plaster areas are like a chain link fence. The man is looking off in the distance, to the other side of the hill.  The greataxe motif can have to do with all sorts of things, like battles and heroes. The figure on the hill is an old man, he's kind of hunched, he's in a coat. The axe is strength and adventure. The hill is made of graphite, it's dull and gray. The chain-link fence goes around a factory. The man has never been in an adventure. He remembers being young. The fence goes around a schoolyard. The axe is about games, kids playing at battle. The figure on the hill is a boy. The axe is held on with tape, a fake moon stuck to a fake sky. The title is a line from a Belle & Sebastian song. The song has to do with heroes and stories. The graphite pencil has a varnish, it sparkles when the light catches it, something dull turns to something magical. The axe moon is impossibly huge. Sometimes kids' battles are more war than play. The figure on the hill is a young man, he disappears in the glare the varnish has made. Fences can keep in or keep out. The title of the song is Get Me Away From Here, I'm Dying. The figure on the hill is an old man. The whole hill is a scribble in graphite pencil, drawn by a boy at a school desk. The painting is about old stories and it is an old story, imagined by a boy, who drew a man on a hill, and put a border around the whole thing.
And maybe that bit of stream-of-consciousness is the best I can do to describe what, for me, this piece, or any piece, is all about. I often hesitate to give that much, I don't usually. Maybe because it feels like gibberish that no one else will understand. Or worse, they'll understand it but just think it's foolish. Maybe that's how a lot of artists feel when they try to describe the art they make. We don't want to wreck someone's view of our work by explaining it and revealing to them that it's actually dumb. Or maybe it's also that what we are putting out there are just pieces of things that already exist in the world, ideas that to us are already full and real. We step back and see what those things say to each other. And we hope that if we're quiet, someone else might hear them talking too.