Hello, and a happy Ides of March to you! Well, belated. I meant to post this yesterday.
Thanks to everyone who has come out to see my show, A Map & A Key, at Boxheart Gallery so far, or have done the tour virtually online. Minutes are precious, and the world is chock full of content - thanks for taking some time to look at what I make. I appreciate you. If you haven't, I invite you to. You can experience the virtual show right here. Or stop by the gallery to see the actual show, if you can. The benefits of going in person include: being able to see the details and texture close-up, a free limited edition sticker you can get literally nowhere else, and feelin' fancy because you're gallery crawlin'. You will also still get a chance for free art, by completing the very simplest of quests. (And let me tell you, as far as quests go, your chances of scoring something on this one are pretty high.)
I'm not kidding about the sticker being limited edition. I only had so much paper.

And now, an abrupt segue into the post I wrote for this week. After viewing the show, I have had a lot of people comment on the titles. So, that made me think more about how the titling of my work comes about.
I love words. More specifically, I love combinations of words. I often use combinations of words to reference specific works of art I make. So do a lot of artists. We call it the title. Everyone else also uses this term. 
Artists use titles in different ways. Sometimes they give their work descriptive titles. They take what you experience and affirm it, categorize it, make it specific. They make what you are looking at realer, I think, by anchoring it in an identifiable system of space and time. A Bowl of Fruit. Some Fruit For Miss Lucy. A Vessel Of Apples And Plums Floating On The Hudson River. All in all it adds up to: The Thing That This Title Is, Is The Thing You Are Looking At.
 That same bowl of fruit could be titled The Slow March Of Time, and then you'd probably start looking for bad spots and thinking about how it would all rot away eventually, just like all of us. I would still call that a descriptive title. When I think of that kind of title, it seems like it exists apart from the artwork. It describes something that is, separate from it being called anything. The title might draw your attention to something you didn't know about the image, like that the fruit belongs to Miss Lucy, or to something you weren't thinking about at the moment, like that we're all going to eventually die. But it doesn't change what the image is, inherently. 
I do this sometimes too, I think, but not usually. I think I usually do something different. And I think it has a bit to do with something I talked about in an earlier post, which is the difficulty of saying what a piece of art means. And that it might not mean anything, so to speak, so much as it contains some things. It has ideas in it, and around it. And for me, the title is another one of those things that sort of float around and about the work. It's an important thing. It's another idea that makes up part of the whole. A little string of words that completes the picture.
I don't really like to create this set of words though.
I have a little notebook full of combinations of words that I've collected. Because I like to borrow them from other places. Songs and books, mostly. An occasional poem, but I don't read a lot of poems. Sometimes a movie. Every now and then something I just heard someone say. 
They seem more important, somehow, these combinations of words, and more beautiful, for already existing. And they add more to the work than just what those few words say on their own. They add other lines from the same song, the next sentence in the book. Backstory, lore, feeling. A little bit of a whole found experience, another piece of the collage. 
What of that comes through in the viewing of the artwork, if any of it does, I don't know. It's a whole lot of intent that could in the end just be for my own benefit. But I'm pretty sure that when I have all of that driving the piece forward, everything just works better. 
These are all thoughts that I'm kind of just sorting through lately. After completing a body of work I find there's always a bit of processing of what has been learned throughout the creation of it, what has changed, and what can be taken into the future. This collection has given me some new perspectives on the importance of subtext to my work, and has allowed for a reckoning of sorts about this sneaky idea of the meaning of art. And a lot of those ideas are well exemplified in the way I use titles. And I plan on leaning a bit more into that and seeing where it goes. There's just so much magic in those little bits of words found buried deep in other people's creations. 
I wonder what you think about titles pulled from other sources? And if you're an artist, how do you title your work? I won't ask you to tell me in the comments. But you are welcome to message me if you think it's an interesting conversation to get into. Or maybe save it until we can have a beer together, your choice.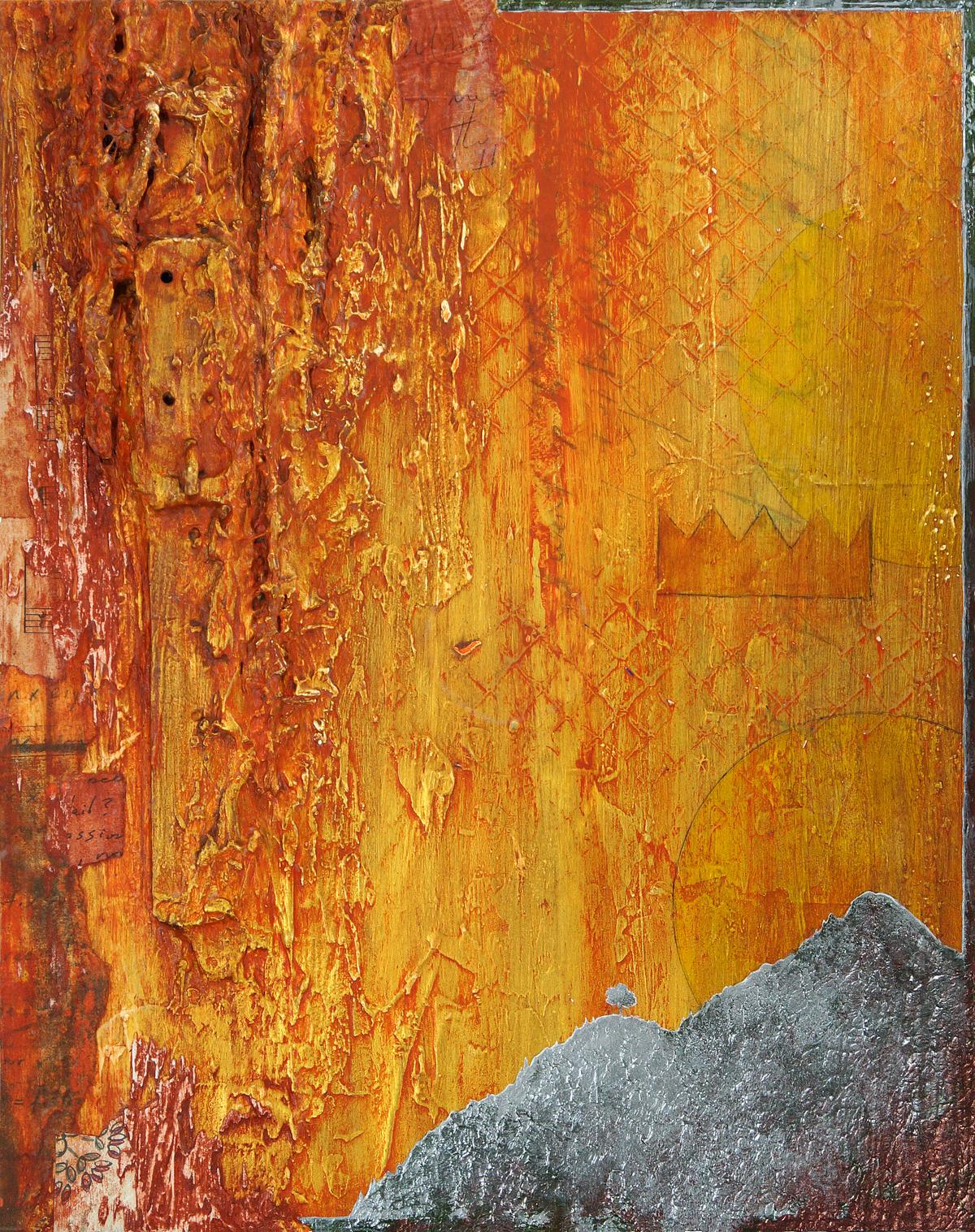 A post-script: This piece is titled For Every Step There Is A Local Boy Who Wants To Be A Hero. What ideas does that add in to it? Quite a few, I think, but you'd probably have to listen to the whole song.